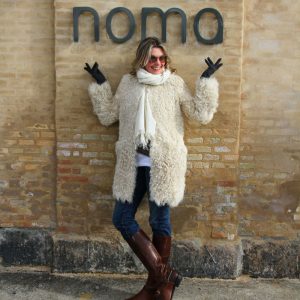 Biography
As long as I can remember, I've had what I refer to as "what's-over-there syndrome". My curiosity for places near and far is an inherent part of my being. I've always been hungry to see and experience everything, everywhere. While studying in Boston I had a large circle of international friends, and from there life took me to Istanbul where I lived full-time for 22 years. I currently split my time between this gateway city to Asia, a home in Hudson, NY, and wherever my wanderlust takes me.
I have a nose for seeking out yet-to-be-discovered destinations, hotels, artisans, shops, restaurants, and experiences that are authentic and site-specific. Even in already-known and explored locales I like to suss out what is both new and loved by locals. My happiest place is immersing myself in the unique flavor of a location and being a traveler instead of a tourist, as is sometimes said.
Having spent the better part of my life living abroad and still having one foot in Istanbul, I understand what it means to truly immerse oneself in a foreign culture. It is my pleasure to draw on my knowledge and experience to craft getaways for my clients that are as authentic as they are well suited to their individual tastes, desires and interests.
A home base in Istanbul and fluency in Turkish have given me in-depth knowledge of and access to the country. Savoring the Mediterranean as my own backyard has allowed me to gain intimate and first-hand expertise of the region.
In addition to planning travel for clients I am the founder and designer of Ichiche, a line of women's resort wear, featuring effortlessly elegant pieces that are handmade by my lead seamstress and her helpers, in a small Turkish village. They are the go-to travel pieces I want to always have in my suitcase.
My personal pursuits include journeying across frontiers and beyond well-trodden paths, staying fit through yoga and pilates, getting outdoors on hikes and runs, and, of course, spending quality time with my husband and socializing with my friends. I feed my creative side and love of making things with my hands by working with natural dyes and doing macramé. I also advocate and care for the street animals in Istanbul where we run our own small cat rescue.
Favorite Travel Quote
"I am not the same having seen the moon shine from the other side of the world."
— Mary Anne Radmacher
Staycation Ideas
The Hudson Valley & Western MA have no shortage of attractions, from quaint little towns to spectacular hikes. One of my favorite things to do is trekking Gertrude's Nose in Minnewaska State Park and then going for pizza & pasta at Westwind Orchards in Accord, NY. It's a six to seven hour loop with stunning scenery, so you really work up an appetite! I also love wandering around the region's small communities, visiting their independent shops and cultural attractions, and capping off the day with a glass of wine on an outdoor terrace. Kingston, NY, the area's largest town, has colorful neighborhoods to explore, my hometown of Hudson is a vibrant art hub and Great Barrington, MA offers a smorgasbord of colonial, Berkshire charm.
Areas of Expertise
Istanbul & Turkey
The Greek Islands
The Mediterranean
St. Barths
New and Up-and-Coming Destinations & Hotels
Authentic Experiences
Shopping Destinations
When Traveling I Never Leave Home Without
Pieces from my Ichiche line of clothing, a hat, a sleep mask, and my own small blanket.
Favorite Travel Destination(s)
Wherever there is something new to discover and learn. For relaxation and warm weather I adore the Greek Islands in summer/fall or St. Barths in winter, and I am crazy about the cozy, welcoming, eclectic, and ultra-chic Danish capital, Copenhagen; I suspect I must have been Danish in another life. "Going local" feeds my soul.
Dream Trip I Can't Wait To Take
Australia, particularly Uluru; Beirut; Ethiopia; Uzbekistan; Mongolia, on horseback, from one side of the country to the other.
Most Memorable Meal Eaten While Traveling
Impossible to name just one! I have been fortunate enough to dine twice at Copenhagen's gastronomic superstar, NOMA, both meals were thought provoking and exceptional. The street food in Turkey (you just have to know where it is safe to eat), however, will give fine-dining a run for its money, albeit in a more humble way. The farm-to-table food at Od in Urla, Turkey, was extra memorable, the simple fish and fresh tapas found anywhere on the Mediterranean are always so satisfying. I long for Pisco Sours in Santiago, Chile, I crave the authentic Mexican food I enjoyed in San Miguel de Allende, Mexico, 20 years ago when it was still an unknown destination, and I count myself lucky when I can devour anything made by our cook at home in Istanbul, she's an excellent self-taught chef.
Countries Visited
27