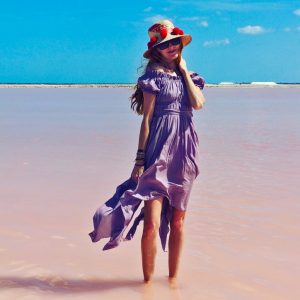 Biography
Wanderlust is in my soul. With 12+ years of experience & insider knowledge of over 80 countries, my passion is curating authentic & memorable holidays for discerning clients. I enjoy elevating my clients holiday — whether it be to an exotic destination, a kid-friendly family vacation, a getaway with friends to a private villa or a romantic beach getaway — being able to suggest off-the-beaten path cultural gems, introducing my clients to local designers & artisans, chefs & unique experiences throughout their travels. The secret to my success is developing a personal relationship with my clients — getting to know them so that I can suggest destinations & ideas that they themselves have yet to think of. And always striving to exceed expectations.
With over 20 years of experience, I am considered a pioneer in "wellness tourism," as noted in Fast Company and The New York Times and a "wellness expert to watch" per Condé Nast Traveler.
When I am not planning travel for my clients I am typically getting my passport stamped in faraway places while hosting clients on a travel, wellness & lifestyle journey through Escape to Shape: Adventures in Wellness – expertly curated small group experience-based vacations that combine travel and exploration around the world with nutrition, wellness, fitness, and local flavor for a uniquely balanced experience. I spend my free time exploring exotic markets & vintage stores around the world; teaching yoga to adults & kids (lately, virtually) or entertaining friends at home in Hudson, NY. I am passionate about yoga, meditation, Pilates, hiking, art, connection, giving back to the communities that I visit – and of course, travel.
When Traveling I Never Leave Home Without
Luggage, filled to the brim 
 + 8Greens & Isdin Sunscreen.
Staycation Ideas
Hudson Valley is so full of charm & natural beauty! It's easy to feel transported without actually traveling very far. Hiking in the Berkshires or Catskills; strolling the lightly populated charming town of Hudson; have a picnic of farm fresh foods on the riverside in Athens.
Favorite Travel Quote
"We travel, initially, to lose ourselves; and we travel, next to find ourselves. We travel to open our hearts and eyes and learn more about the world than our newspapers will accommodate. We travel to bring what little we can, in our ignorance and knowledge, to those parts of the globe whose riches are differently dispersed. And we travel, in essence, to become young fools again- to slow time down and get taken in, and fall in love once more." ~ Pico Iyer
Areas of Expertise
Wellness Travel
Group/Corporate Travel
Southeast Asia
Bhutan
Africa
Croatia
Bucket-List Holidays
Light Adventure
Favorite Travel Destination(s)
I love everywhere we travel! But if I HAD to pick — India & Bhutan & all over Africa but especially, Botswana. And Marrakech, I adore Marrakech!
Dream Trip I Can't Wait To Take
Ethiopia, Mongolia, other parts of India & New Zealand.
Most Memorable Meal Eaten While Traveling
Octopus carpaccio in Rio; Grilled octopus in Trancoso, Brazil; whole fried fish with habanero salsa on the beach in Mexico or Colombia, Homemade pasta with truffles that we found while truffle hunting in Tuscany, my mothers tacos – they are the best!
Countries Visited
86